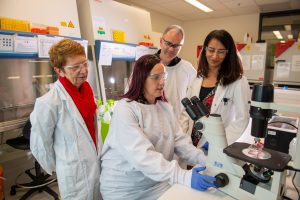 A second discovery out of Cancer Therapeutics CRC has entered into clinical trials. If successful the discovery could be used to treat breast, prostate and lung cancers.
The discovery centres around the KAT6A protein, which is commonly implicated in cancer types with solid tumours. Associate Professor Tim Thomas brought this protein to the attention of Cancer Therapeutics CRC researchers who then developed potential therapies that have subsequently been licensed to Pfizer through the CRC's commercial partner, CTxONE.
"The KAT6A project was brought into Cancer Therapeutics as a novel target idea, and through collaboration between our experienced drug development researchers and the original investigators, we were able to develop potential therapies that were subsequently licensed to Pfizer. It is exciting to see this project enter clinical trials and take one step closer to becoming a treatment," said Brendon Monahan, Chief Scientific Officer at Cancer Therapeutics CRC.
This is the second of Cancer Therapeutics CRC's discoveries to enter the clinic in 2 months. This highlights the value of collaborative research models such as Cancer Therapeutics CRC to the medical research ecosystem.
"The collaboration has resulted in such a successful team of high calibre researchers who have repeatedly shown they produce world class results. In addition to improving cancer treatment outcomes, this will potentially bring returns greater than $400 Million that can be used to grow Australia's drug discovery capabilities creating jobs and opportunities" said Lisa Dube, CEO of Cancer Therapeutics CRC.